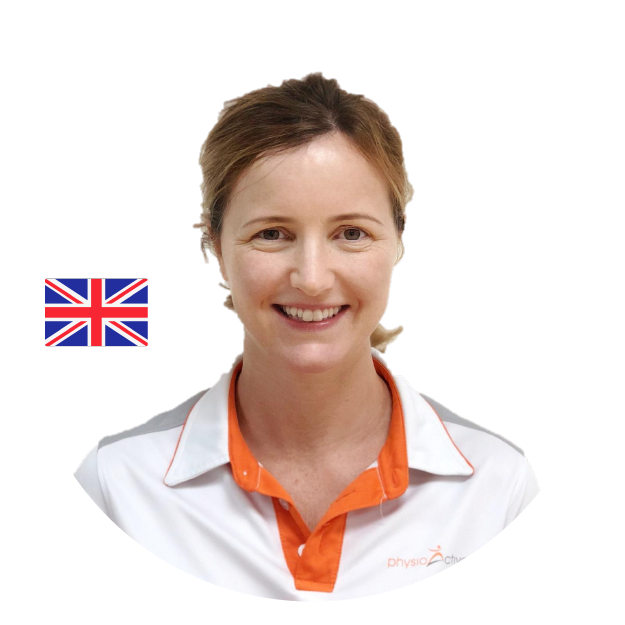 Alexandra Harvard – Walls B.Sc. (Hons)
Physiotherapist, Women's Health, Sports Therapist, Pilates Instructor, Dry Needling
Book An Appointment Today
About Alexandra
Alexandra has been working at PhysioActive since 2011 and is originally from the UK, where she graduated from the University of Manchester with a Bachelor of Science Honors degree in Physiotherapy in 2005. Prior to moving to Singapore and joining PhysioActive, Alex was working as a Senior Physiotherapist at Aspetar, an Orthopaedic and Sports Medicine Hospital in Doha, Qatar. Alex has gained extensive experience over the last years in the treatment of knee and shoulder injuries, for which she has done various postgraduate courses to enhance her knowledge. She is also a qualified matt-Pilates instructor, which she uses in her rehab for back and neck patients and she is an experienced dry needling therapist. Recently Alexandra has taken on the responsibility of leading our Ergonomic expertise, which involves her engagement with Corporations in Singapore to help improve employee productivity and safety in the work place through onsite ergonomic assessments. In her spare time, Alex is a busy mum but still likes to fulfill her passion of keeping fit by playing hockey and participating in marathons.
Testimonials
E Grundy

( Homemaker and amateur golfer)

After a keyhole surgery for a shoulder impingement and tendon tears, I had five months of physiotherapy treatment by Alex Gill. The five months felt an extremely long time for me but now I can play golf again. Alex is very experienced, not only as a physiotherapist, but also as a mentor. I could not have made it through without her continuous encouragement.
Claudio Alves

(Global Director of Marketing and Sales, Vale SA)

In January, 2013, I suffered a serious accident while travelling in China, where I went under surgical procedure. Back home in Singapore, I was treated by an Orthopedic doctor which referred me to PhysioActive for a physiotherapy follow up. I was broken down, in a wheel chair and with a slight hope of recovering all my movements. With a constant and serious work from my Alex, after a couple of weeks I was able to move from the wheel chair into a pair of crutches and from that to the help of an orthesis. My movements gradually came back and one year later I regain all my movements as before the accident. None of that would have been reached without the invaluable orientation of the PhysioActive professionals and expertise, especially from Ms. Alexandra Gill.
Christine Werschnitzky

Dear Alexandra, My Knee Surgery was done 21 of January. After that I was referred to Physio Active. I had to start from zero ,all my muscle and strength were gone. I want to thank you for all your support and very good Physio Therapy building my muscle and strength back to normal. I really looking forward for my next run. Thanks a lot Alexandra!
John Matthews

(Senior Director, Business Performance)

I first went to see PhysioActive on a referral from my doctor due to a severe left shoulder strain. I was in pretty serious pain and was limited in what I could do. Alex, the physical therapist with whom I worked, was through and professional and while it took some time due to nature of the strain, I recovered completely and suffered no prolonged impairment. I've not had a problem with the condition since Alex finished up.