Gregorius Denya

Very recommended. The exercise program made by Mr Ferian is very useful. He also give some post treatment tips and advice to avoid recurring injury. Thank you PhysioActive!

https://goo.gl/maps/wSmWzbvrxNBVmswS6

Dina Angkawibawa

Stephen Chendra

Went here 2 times in total and all I can say my muscle issues are getting better. Recommended place with a great service from the staffs and physiotherapist

https://goo.gl/maps/ntf9CiPpkcmcUJk86

Ruben Hattari

Thank you for the super treatment and friendly service. I injured my shoulder and neck from excessive workout - extremely gladful that Ika, my therapist, was able to sort out the pain after 2 treatments. PhysioActive Dharmawangsa is highly recommended for anyone recovering from sporting injuries or simply want to look after their physique.

https://goo.gl/maps/fj3CsPh7EgaJ6d3c7

Elizabeth Elizabeth

I think it is one of the best physiotherapy in Jakarta (at least better than Physio M*****l C****c). Going there for 2x already but can feel the difference from day 1. The dry needle technique from Bu Ika is really help me to reduce my neck stiffness. Still need going there to relieve pain on my arms. She is able to find out the problem although in my case, there might be more than one root causes but still better than not finding anything. Love how they apply the technology as part of their service. We can see our exercises that need to be done on the app. It is really helpful (although it needs some improvement). The receiptionist is wonderful too. Meet 2 different people and both are great at service. Love on how they treat us and offer us a drink

https://goo.gl/maps/J6uxowjwGSxupbBD8

Stevanie Herlambang

This place is amazing! I was struggling with neck pain for years and after seeing Mrs Ika just a couple times she completely fixed it, She made my recovery a priority with frequent follow-ups and useful home exercises. She also showed me how to help prevent the same injuries occurring in the future. Everyone there is super lovely as well and make booking appointments so easy - couldn't recommend this place enough! Definitely i had a great experience.

https://goo.gl/maps/JiBe1cEq4JjRuc5Y6

Retnadi Soraya

Rebecca Rachmat

Anantho Tri Wardono

Tan Song Yi

(Student)

I came to PhysioActive because of slipped disc, which gave me severe back pain for several months. Leah explained my condition to me clearly, and gave me a clear overview of how we were going to deal with the back pain, and how I could help myself reduce the pain. Leah is very understanding and my back pain has reduced greatly ever since I started my Physiotherapy with Leah!

Radinda Kush

The best physio in town i'v ever met, the staff are really hv like an impeccable manners and helpful. They have 3 phisyo and 2 trainer (cmiiw). Although They hv US and several macchine for therapy, treatment mostly use physical training and massage / releasing muscle. I'm patient with Hnp grade 1 and several muscle injuries and handled by mrs. Ika, a senior physio. Actually I already tried several different physio place, but mrs ika is the best, I thought she has a magical hand, she release my very sore muscle with minimum pain, but maximum result. After 5 met I felt really far better. They also give exercise by an app and you can make free consultation on the app. Mrs ika also allow me reach her by Whatsapp for further consultation. Even I still not injury free now, but i know visiting physio active is a right choices!

https://goo.gl/maps/q2MbgncFpseLLegy6

Kalsa Naira

Highly recommend this place! I suffered with scoliosis and a lot of back pain and just after a few sessions, Ms. Ika has managed to fix my body posture and relieve my back pain. The home exercises she assigned are very helpful too! Everyone here is so kind and lovely, and the place has great hospitality and service overall. Really enjoyed my experience here. Thank you!

https://goo.gl/maps/6rBYjNmzgZHBienC6

Kristanto Parulian

Perfect place to fixed your aching and stiff joints. The place is perfect, super clean and the staffs are very professional. The 1st time, wasn't sure if I came to the right place to fix my aching amd stiff joints, but I end up keep coming to fix even minor aching that I feel 😁 Very helpful and recommended.

https://goo.gl/maps/uLgZdBNhKm4sa7TRA

Walter Ojeda

I totally recommend this place for any kind of physiotherapy needed. The place is super clean and all the staff are very professional. My therapies were done always on time. Ibu Ika, treated me with tennis elbow pain. I went to many places before and did not see any results. I have been treated by her for a couple of session and i am almost 100% pain free. She is cordial, professional and sweet. Dont hesitate to get an appointment if you are looking into this place services.

https://goo.gl/maps/KdKxMa79TEia6wMu9
Taping & Strapping
Sport taping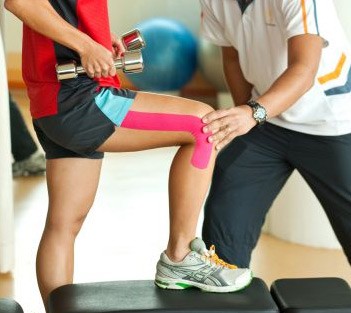 Sport taping is applied to support the affected joint during sport activities and therefore increase the stability of the joint. It prevents excessive movements and reduces pain. This will help you to get back safely to your sport activities.
Taping helps with the following sport injuries:
Ankle sprain
Knee pain
Shoulder pain
Other painful joint conditions
Basic taping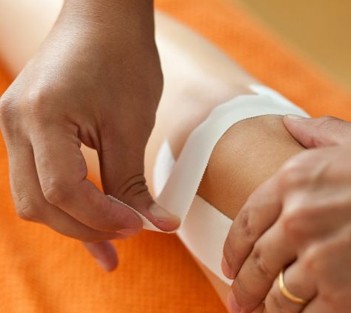 Tape can be applied to stabilize and rest the joint during daily activities and sport. This will help to reduce the pain while using the affected joint. We also apply tape as a postural reminder, esp. to keep a correct sitting posture.